AM.BR.INT.CH.

K

ENWOOD'S

L

IGHTNING

R

OD
"JOEY"

BEST OF BREED FROM THE OPEN CLASS AT THE AMERICAN SPANIEL CLUB NATIONAL SPECIALTY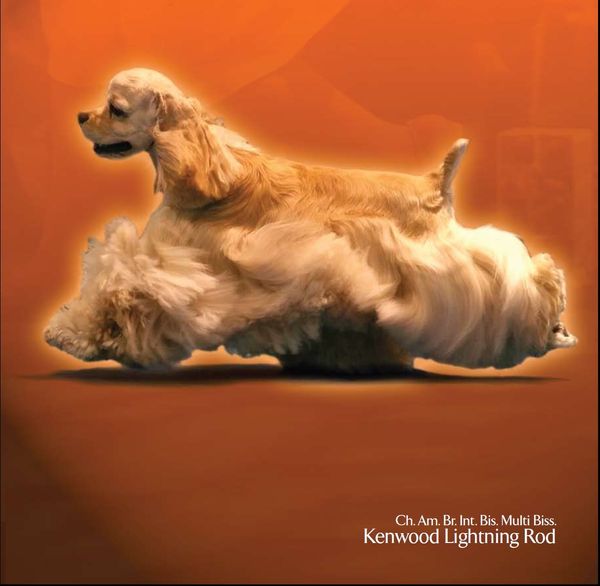 JOEY's STORY

Joey was born on April 1, 2007 Sired By Ch. Larmaro's Handsome Dancer and out of Ch.Kenwood's Lightning Bug.

At the age of two months, "Joey" was purchased by his co-owner, Alfredo Chacin and traveled to his new home in Caracas, Venezuela.

As a puppy, "Joey" was campaigned in Venezuela by his handler Arnaldo Rivas.  During that time he won many Best Puppy awards as well as several Junior Best in Shows.

At 11 months of age, "Joey" was sold to and sponsored by Marie Francois and was sent to be shown in Brazil with Daniel Beloff.  "Joey" quickly finished his Brazilian championship and added the title of International Champion.  "Joey" was also shown at the World Dog Show in Stockhom, Sweden where he won his young dog class.

In May 2009, Joey traveled back to the United States to his breeders, Dennis and Pam Doyle of Kenwood cockers.  "Joey" was then shown by Joan Stallard who quickly won ten points toward his American championship, including a Best In Show at the Detroit Cocker Spaniel Club from the Open Dog Class, under Jamie Hubbard.  Due to the fact that Joan had a judging commitment for the Futurity at the American Spaniel Club National Specialty, she was not going to be able to show "Joey" at that show.  Joan ecouraged the Doyle's to allow "Joey" to make the trip in the hands of Mike and Linda Pitts.  The rest of that story has become part of our cocker history, in that "Joey" was again awarded Best In Show from the Open class to finish his championship under specialty judge, Cindy Lane.  We are deeply grateful to the Pitts for guiding "Joey" to this award.

At this moment Joey is in Malaysia in  the hands of his new owners, Ricky Chang and Miming Heryanto.

"Joey" has already completed his championship and was named "Top Gun Dog" in Malaysia.  He will now compete for his Indonesian Title.

In his breeders opinion and everyone who has met him "Joey's" most outstanding quality is his temperament and attitude!  This dog loves life and everything in it! 
 
 
CLICK ON THE PHOTO TO ENLARGE IMAGE

 ________________________________________________________

PEDIGREE: Am.Br.Int.Col. Ch. Kenwood's lightning Rod
Ch. Larmaro's Aiming for the Gold

Ch. Larmaro's Palm Hill Spritzer

Ch. Candelles Tiffany of Larmaro

Ch. Jacks Golddust of Silverdi